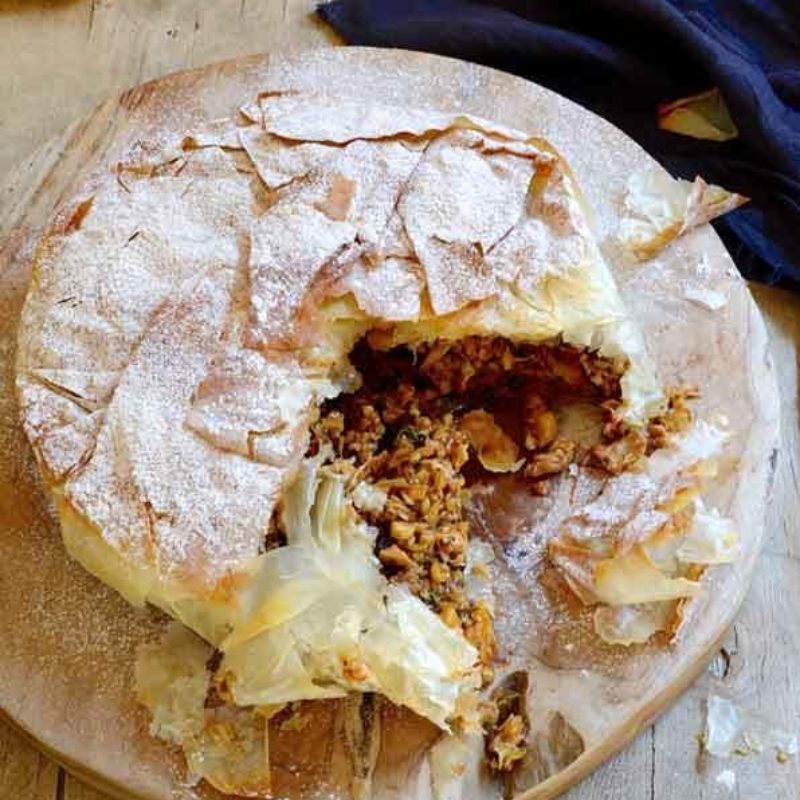 Levantine
Chicken And Pine Nut Pastilla
Ingredients
| | | |
| --- | --- | --- |
| | | Vegetable oil |
| | | Onion chopped |
| | | Ginger grated |
| | | Clove powder |
| | | Cinnamon powder |
| | | Turmeric |
| | | Water/Chicken stock |
| | | Ground black pepper |
| | | Eggs |
| | | Nutmeg |
| | | Parsley chopped |
| | | Coriander chopped |
| | | Saffron threads |
| | | Pine nuts |
| | | Garlic |
| | | Lemon juice |
| | | Filo pastry |
| | | Icing sugar |
| | | Butter melt |
Preparation
Sear the chicken breast and leg in vegetable oil.
Remove the chicken. Sauté onion in the same pan.
Stir in ginger, clove, nutmeg, cinnamon and stock/water.
Season with salt and black pepper.
Add chicken back in the pan.
Cook the mixture them till they are cooked and tender.
Remove them and keep aside to cool down.
Remove the meat and shred roughly.
Continue cooking the mixture until it is reduced and thickened.
Add beaten eggs, butter, herbs, saffron and pinenuts.
Cook over a gentle heat, stirring until the mixture is scrambled.
Preheat the oven to 400°F.
Spread the filo sheet, brush it with the melted butter.
Use few sheets in layers.
Cut in required shape.
Spoon the scrambled mixture and top with some pigeon meat.
Fold the filo pastry and brush it with melted butter.
Bake in the oven until it is crispy and golden brown color.
Dust with icing sugar and cinnamon before service.
Sauce
Sauté onion and garlic.
Add lemon and emulsify with butter.
Season with salt and pepper.